THE UNIVERSITY OF NORTH CAROLINA AT ASHEVILLE

                                                                FACULTY SENATE

 Senate Document Number   1005S

 Date of Senate Approval      01/20/05  

- - - - - - - - - - - - - - - - - - - - - - - - - - - - - - - - - - - - - - - - - - - - - - - - - - - - - - - -

Statement of Faculty Senate Action:

IDC 3:  Proposal to authorize the establishment of the Pisgah Astronomical Research and Science Education Center (PARSEC)

                                                                                                            November 10, 2004

1.  Name of the Proposed Center

The University of North Carolina at Asheville (UNCA) seeks approval to establish the Pisgah Astronomical Research and Science Education Center (PARSEC) as an Interinstitutional Research Center of the University of North Carolina with UNCA being the Administrative Institution.  Formerly named Pisgah Astronomical Research Center (PARC) in the Authorization to Plan, which was approved on August 8, 2003, this name change reflects the importance of science education to the vitality of this center while incorporating an astronomically appropriate acronym.  This request to establish is being made under the guidelines of the Administrative Memorandum #373-Policies and Procedures for Planning, Establishing, and Reviewing Centers and Institutes of The University of North Carolina.

2.  Specific Objectives and Goals of the Proposed Unit

The mission of PARSEC is to provide students and faculty from across the UNC system with access to world-class, state-of-the-art astronomical instrumentation in a setting that serves as a conduit for education and research opportunities.  Through a contractual Master Agreement with the Pisgah Astronomical Research Institute (PARI), PARSEC will have access to the facilities, equipment and infrastructure located on the 200-acre PARI campus, approximately 30 miles southwest of Asheville.   The partnership with PARI will allow PARSEC to support multidisciplinary, regional and international collaborations that expand the frontiers of knowledge and provide new educational infrastructures.  The goals and objectives of PARSEC are to bring research, science education, and public outreach to a broad cross-section of users in a variety of ways while sustaining and promoting financial independence. 

● To obtain infrastructure at PARI necessary to support increasing research and education

    accomplished through the following:

<![if !supportLists]>a. <![endif]>Generating funding to maintain, improve and expand instrument functions

<![if !supportLists]>b. <![endif]>Providing administrative support to enhance research and education projects and programs

● To stimulate new and ongoing university scholarship across the UNC system in various

    ways:

<![if !supportLists]>a. <![endif]>Providing "hands-on" accessibility and experience with instrumentation for undergraduate and graduate students and faculty

<![if !supportLists]>b. <![endif]>Maintaining flexibility to respond to tracking current astronomical targets of opportunity

<![if !supportLists]>c. <![endif]>Capitalizing intellectual development of faculty, students and visitors

<![if !supportLists]>d. <![endif]>Attracting graduate students from other states, as well as providing new research opportunities designed to keep North Carolina graduate students in state

● To generate multidisciplinary collaborations across the UNC system and other

     universities; this will be achieved by:

<![if !supportLists]>a. <![endif]>Attracting collaborators from academically diverse backgrounds

<![if !supportLists]>b. <![endif]>Creating new collaborative opportunities for faculty in innovative areas of research and education 

● To promote undergraduate research across the UNC system which is currently being

    accomplished by:

<![if !supportLists]>a. <![endif]>Providing resources and mentoring projects at PARI

<![if !supportLists]>b. <![endif]>Creating mentoring projects across the UNC system (several UNC institutions are currently participating in such projects at PARI) 

● To provide multidisciplinary educational programs and learning opportunities for undergraduate, graduate, post-doctoral and life-long learners in the astronomical

     sciences and extending into other areas including computer sciences, environmental

     sciences, life sciences, physics, engineering and media arts.

 

● To create a world-class, state-of-the-art Center utilized by a broad cross-section of users

    in the following ways:

<![if !supportLists]>a. <![endif]>Providing collaborative opportunities for research and education on an international scale

<![if !supportLists]>b. <![endif]>Enabling remote access to cutting-edge instrumentation, network technologies and expansive facilities

<![if !supportLists]>c. <![endif]>Hosting participants locally at PARI facilities

● To actively secure financial stability; this will be achieved by:

<![if !supportLists]>a. <![endif]>Creating new initiatives and collaborations with public (federal and state) and private sources to ensure steady income streams

<![if !supportLists]>b. <![endif]>Conducting aggressive grant writing and contract development

<![if !supportLists]>c. <![endif]>Developing a PARSEC endowment fund

3.  The Unit's Relevance to the Institutional or University Mission with Impact on existing academic departments, schools, institutes, centers

UNCA acts as the administrative institution of PARSEC, with funding coming from external sources, such as the State Expansion Budget, grants, contracts and private sources.  UNCA has a long history of supporting and encouraging multidisciplinary research and education, and its active involvement in PARSEC and PARI will enhance its curriculum and scholarship on different levels and areas.  PARI is currently participating in projects with a number of UNCA departments, including Physics, Computer Sciences, Education, Mathematics, and Multimedia Arts and Sciences. 

Institutions from across the UNC system will benefit from access to educational and research opportunities and increasingly strong technology infrastructure at PARI, along with the unique availability to access cutting edge instrumentation both locally and also remotely.

Instructional programs at UNCA will be positively affected by the establishment of PARSEC.  Course offerings at UNCA will be impacted as research collaborations across the UNC system increase.  UNCA has recently filled an endowed chair with a radio and optical astronomer whose primary responsibility will be to stimulate the use of the Center using PARI facilities.

4.  Statement about anticipated effects of proposed unit on instructional programs of proposing institution

Currently several UNCA departments and programs are actively engaged with PARI. The following are from 2004 alone:

<![if !supportLists]>· <![endif]>a UNCA mathematics major was awarded a grant from the UNCA Undergraduate Research Program to analyze stellar spectra taken with the Mt. Palomar 60-inch telescope and Echelle Spectrograph

<![if !supportLists]>· <![endif]>a physics major is currently developing a new laboratory exercise for the School of Galactic Radio Astronomy Smiley Project at PARI with support from the Space Telescope Science Institute Hubble Space Telescope Education/Public Outreach Grant to PARI and UNC-CH (the Smiley Project allows students to remotely access PARI's 4.6 meter radio telescope and to date has been used by more than 3,000 students in grades 8-12)

<![if !supportLists]>· <![endif]>a computer science major, supported by a grant from the Janirve Foundation to PARI, is building and programming  a robot for the new PARI ScienceZone project (designed to allow K-8 students to control the robot over the Internet and conduct physics experiments)

<![if !supportLists]>· <![endif]>an astrophysicist in the UNCA Computer Science Department developed the PARI 4.6-meter Smiley Radio telescope Java Internet controls

<![if !supportLists]>· <![endif]>multimedia arts and science majors, funded by a National Science Foundation grant to PARI, are developing new multimedia exhibits for the PARI StarLab programs.

UNC-Chapel Hill's Department of Physics and Astronomy has completed a three-year optical survey to find detached low mass eclipsing binaries and is using the data to make direct measurements of masses and radii.  A graduate student earned her Ph.D. with this research. Also underway through the efforts of UNC-Chapel Hill is the assembly of an instrument for use in detection of near-infrared (NIR) emission from gamma-ray bursts (GRBs).

Increased collaboration with other UNC institutions are envisioned with UNC-Chapel Hill's astronomy program, UNC-Charlotte's optics program, North Carolina A&T's Space Science program, Appalachian State University's observatory, as well as several astronomy programs at UNC-Pembroke, UNC-Greensboro, North Carolina State University, UNC-Charlotte and Western Carolina University's optics and photonics program.

A distance learning facility at PARI is being planned that would allow students who are on-site at PARI to participate in courses at other UNC campuses. It would also allow classes to be taught at PARI that would be available to students anywhere within the UNC system.

5. Director, PARSEC Board and the Scientific Advisory Committee
Director
A national search for a Director will commence with the approval of the 2005-06 UNC Expansion budget.  The PARSEC Director will be an individual of significant stature in the research community, who will have the overall administrative responsibility of PARSEC and will be expected to further develop PARSEC as a world class research-education Center.  The PARSEC Board will act as the search committee and will interview on site at least three candidates.  The Board will recommend to the UNCA Chancellor at least two qualified candidates, and the Chancellor will make the final selection of the Director after consultation with the UNC Office of the Vice President of Research.
The Director will have administrative responsibility for PARSEC and will lead its development as a world-class center for research and science education.  A major part of his/her effort will be directed towards developing future funding sources and the intellectual integrity of the Center.
PARSEC Board
The PARSEC Board will consist of nine members.  UNCA will have two permanent members and PARI will have two permanent members. Of the remaining five members, at least three will be from within the UNC system, excluding UNCA and PARI. The other two members will come from within or outside of the UNC System. The PARSEC Team will have responsibility of establishing the initial PARSEC Board and thereafter it will be the responsibility of the PARSEC Board to maintain a full membership.  The PARSEC Board will meet at least twice annually.  Annually the PARSEC Board will elect a Chair Person, a Chair Person-Elect, and a Secretary-Treasurer.  PARSEC Board will have the responsibility of ensuring that PARSEC is meeting its commitments to its key stakeholders.  These stakeholders include the national scientific and academic communities, the UNC System, UNCA, PARI, federal and state government agencies, and commercial and non-profit entities interested in the activities of PARSEC. 
Scientific Advisory Committee
The PARSEC Board will be advised on matters relating to research and instructional programs by a Joint Scientific Advisory Committee (JSAC) that also functions as the Scientific Advisory Committee for PARI.
Members of the JSAC will be appointed jointly by the PARSEC and PARI Boards of Directors according to criteria determined by consultation between both Boards.     
The JSAC will be charged to report to both Boards as appropriate.  
6.  Description of PARSEC Responsibility Structure, Including an Organization Chart
The PARSEC Board will receive an annual report from the PARSEC Director.  The PARSEC Board will transmit this report to UNCA's Chancellor, who in turn will provide this report to the UNC Vice President of Research.  The PARSEC Board, also when appropriate, will coordinate development with the PARI not-for-profit public foundation.
The PARSEC relationship with PARI will be governed by a Master Agreement, which will be legally binding for both parties. The Master Agreement will clearly articulate all aspects of the relationship between PARSEC and PARI, including:
<![if !supportLists]>· <![endif]>details of how PARSEC funds will be obtained
<![if !supportLists]>· <![endif]>how PARSEC funds will be used
<![if !supportLists]>· <![endif]>the manner and form of issuance of sub-agreements for work tasks under the Master Agreement
<![if !supportLists]>· <![endif]>the manner and extent to which work under the Master Agreement may be used for revenue purposes
<![if !supportLists]>· <![endif]>the manner in which any resulting revenues will be shared among the several parties
<![if !supportLists]>· <![endif]>the intellectual property rights for each of UNC, PARI, participating UNC institutions and individuals doing work on sub-agreements under this Master Agreement. 
The Master Agreement will be subject to approval by the PARI and PARSEC Boards, contingent upon final approval by the UNC Office of the President.
The PARSEC Board will have oversight responsibility for the operation of PARSEC, as well as responsibility for its long term planning.  The Director will communicate with the PARSEC Board on a regular basis and submit a formal annual report to include the PARSEC budget, funding initiatives, scientific and educational accomplishments, and proposed future goals.  The PARSEC Board will report to the UNCA Chancellor and ultimately to the President of the UNC system.  The annual report will be forwarded by the PARSEC Board Chair to the UNCA Chancellor, who in turn will provide it to the UNC Vice-President for Research.  The Chair of the Board will normally include an endorsement or other suitable elaboration for the UNCA Chancellor and UNC Vice-President for Research with the annual report.
Once established, the PARSEC Board will develop and ratify by-laws for governance, operations and terms of membership.
The PARSEC Board will communicate with the PARI Board as major initiatives are proposed and considered.  The details of PARSEC activities will be handled through interactions between the PARSEC Director and the PARI President or their respective designees.
The affiliated faculty membership of PARSEC will consist of faculty drawn from member universities, who are active participants in the research and educational programs of PARSEC-PARI.   Initially, affiliated faculty will be drawn from universities in the UNC system but membership may be extended to faculty outside the system who are active users of the PARSEC-PARI facilities.  Affiliated faculty will be appointed by the PARSEC Director in consultation with the JSAC.
In the course of their regular scholarly activities, the member faculty will pursue research and instructional projects, particularly at PARI and often in collaboration with PARI staff.  The PARSEC Board and Director, and the PARI Board and President will work to make UNC-PARI interactions as seamless and productive as possible.
PARSEC Organizational Structure
<![if !vml]>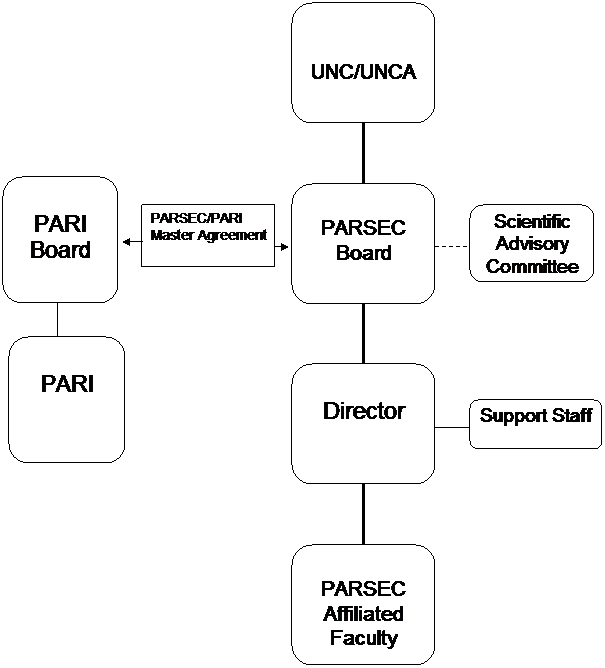 <![endif]>
7.  Budget Estimates and Anticipated Sources of Funding
PARSEC income streams will come from grants, contracts, donors, state funding, and federal support.
PARSEC's expenditures will fall into three categories:  resource usage, instruments and facilities.  Resource usage includes fees paid to PARI through PARSEC for usage of the facility, scientific instruments and staff resources.  Facility enhancements and instrument additions are the capital expenditures outlined in Section 8 of this proposal.  The operations category includes salaries, benefits, and travel costs for PARSEC's director and support staff, and includes the normal operation expenses for the PARSEC offices.
It is anticipated that one half of the state funds will be designated for resource usage and one half for PARSEC operations. When federal support is achieved, it will be used for facility enhancements and instrument additions as outlined in Section 8. After an initial period of developing the facilities, PARSEC plans to develop long term federal funding for program operations and facility usage support.  Funds derived from grants, contracts, and gifts will be used to support PARSEC and PARI as defined in the Master Agreement and as specified in the terms of the grants, contracts, and gifts.
Expected Income by year
Item                                         2005              2006             2007              2008             2009
State Funding (external)      $250,000        $500,000       $500,000     $500,000       $500,000
Federal Support                 $2,000,000     $3,500,000    $3,500,000   $2,000,000    $2,000,000
Grants, Contracts, Gifts    $              0    $    500,000     $1,000,000   $1,500,000    $1,500,000
TOTAL                            $2,250,000     $4,500,000    $5,000,000   $4,000,000    $4,000,000
Expected Expenditures by year
Item                                         2005              2006              2007              2008             2009
PARSEC Operations          $125,000       $650,000      $1,050,000     $1,950,000   $1,950,000
PARI resource usage          $125,000       $350,000         $450,000     $1,050,000   $1,050,000
Equipment & Facilities    $2,000,000    $3,500,000      $3,500,000    $1,000,000   $1,000,000
TOTAL                           $2,250,000    $4,500,000       $5,000,000    $4,000,000   $4,000,000
8. Statement of Capital Needs
The radio and optical observatories located at PARI provide a uniquely-designed site for PARSEC programs and activities.  As such, several components of the observatories need additions and instrument enhancements to fully meet the needs of the astronomical research and science education mission of PARSEC.
During its years of government operations, several hundred million dollars was spent on infrastructure on the site. At the time of its acquisition by PARI, there was more than $200 million of value in the site. Since then, PARI has invested more than $10 million to develop the site into an operational facility for astronomical research and education. 
Long term capital plans include enhancements for the radio telescopes (approximately $2.5 million), installation of a 1.1 meter optical telescope (approximately $2 million) and development of student/astronomer housing and a public education facility (approximately $4.5 million).  The residential research and education facility will include an auditorium, interactive science center and a bookstore.  It will also allow the development of public outreach programs, including guided tours and group astronomy activities. Capital plans also include campus and infrastructure upgrades ($3.5 million) and the establishment of a library with distance learning and wideband Internet2 access ($3.5 million).
9. Space Needs (immediate and projections)
Immediate space needs at PARI will include office and work space for the PARSEC director, PARSEC support staff and the UNCA Glaxo Chair.  Projected needs at PARI include housing for students and visiting scientists, laboratory space, student work areas, additional office space for the PARSEC staff as it increases and an education outreach complex. PARSEC will contract with PARI for this space and resource usage.
The only on-campus space needed at UNCA will be an administrative office for the PARSEC Director.  Current designated UNCA academic space will not be used for this purpose.  PARI has ample administrative office and parking space for the activities of PARSEC.
Although rest areas are available at PARI for short term visits, there is a need for additional housing for students and visiting scientists for extended stays.  A housing facility for up to 60 people is needed. 
An education outreach complex is critical to the mission of PARSEC.  The dissemination of research to the general public is important for continued support of basic research.  A facility for guests and the general public would emphasize education/public outreach education in the sciences.  This would include astronomy programs using radio and optical telescopes for groups.
10. Additional Information to Support Establishment of PARSEC
The economic future of North Carolina and the nation is inevitably connected with our ability to promote industries and infrastructures that build upon rapidly evolving technological developments.  To advance, we must attract and cultivate a well trained population with a diverse set of technological skills that can adapt to changing conditions.  Intellectually focused centers of excellence with strong community roots provide a foundation for this development in two fundamental ways: they attract talented individuals with a range of skills, providing a focus for further community and economic development; and, such centers provide an attractive environment for learners of all ages to become actively engaged in research and scholarship.
PARSEC, as a center of the 16-campus University of North Carolina system, will provide a focus for researchers, educators, and students using the PARI facilities.  Ongoing and future scientific programs located at PARI necessarily involve extensive interdisciplinary collaboration.  Indeed, modern astronomy centrally involves physics, mathematics, computer science, engineering, chemistry, and environmental science.  In the process of bringing these diverse fields together in pursuit of astronomical mysteries, we create an ideal setting for engaging students of all levels in the excitement of science.  Additionally, PARSEC will provide research opportunities and facilities that will attract graduate students from other states and help keep North Carolina graduate students in state.
Astronomical research now under development through PARSEC/PARI encompasses both optical and radio astronomy.  These research programs are designed to push back the frontiers of knowledge.
For example, the planned 1.1-meter optical telescope at PARI will complement seven other telescopes in the Western U.S., Japan and Europe, as part of a worldwide research project involving the search for Near Earth Objects (NEO). The telescope will have the widest field of vision of any NEO telescope in the world, and will be the only telescope capable of simultaneous photometric and spectroscopic observations.  The telescope would also be used to study gamma ray bursts, capitalizing upon its unique capability to make simultaneous spectroscopic and photometric measurements.  Telescope time would also be available for additional research, such as supernova searches and terrestrial atmospheric research.  The 1.1 meter telescope would join six other telescopes currently housed on the PARI optical ridge.
For radio astronomical research, PARI has two working 26-meter radio telescopes and a 12-meter radio telescope housed in a radome.  PARI has already invested more than a million dollars to upgrade the 26-meter radio telescopes for astronomical pointing and tracking, and a vigorous program to add additional capabilities is underway, with the goal of creating a multi-frequency, two-element interferometer.  The result will be an instrument that can carry out important time intensive observations that can not be scheduled at national radio observatories, which are commissioned to serve a broad spectrum of astronomical users.  The two-element interferometer will facilitate much needed studies of rapid variability in such exotic objects as quasars, pulsars, and the sources of enigmatic gamma ray bursts.  The 12-meter radio telescope, having a precise surface, can operate at high frequencies and the development of a 22-GHz receiver is planned.  This radio telescope could then be used to conduct the first survey of the entire northern sky for water maser sources, which are understood to be regions of star formation in our galaxy.  Such a large-scale project would span about eight years of continuous observing.  Like the two-element interferometer, this instrument could be dedicated to large scale projects beyond the scope of most programs that can be contemplated within the conventional framework of national radio observatories, and would also be used for gamma ray burst (GRB) follow up.
Astronomical research at PARI is inextricably connected to instrumentation development.  This will make PARSEC/PARI unique, particularly in comparison with the U.S. national radio observatories, in which specialization separates engineers from programmers from astronomers, in order to optimize equipment development and achieve a high observing efficiency.  The national radio observatory system is thus highly effective at providing a large research community with access to cutting-edge facilities, but when coupled with the dearth of university-based radio astronomical facilities, it has had the unfortunate side effect of weakening training opportunities for students at all levels.  Thus, PARSEC will fill a unique role as it involves students in all aspects of a vigorous research program.  Most notably, students will work in an interdisciplinary, "hands-on" environment in which all of the fields that underlie modern astronomy – physics, mathematics, computer science, engineering, chemistry, and others – will be marshaled in the context of solving profound astronomical problems.
For undergraduate and graduate students, training in radio astronomical instrumentation through PARSEC will address a national need while giving these students an important educational advantage.  Currently, almost no new Ph.D.s in radio astronomy have a strong background in instrumentation.  At the other end of the pipeline, senior radio astronomers with extensive instrumentation experience are already retiring and more will follow within the next decade. 
Of course, the educational mission of PARSEC will extend far beyond training astronomers.  The multidisciplinary environment of PARSEC will allow students at all levels to explore a range of disciplines and foster individual development according to personal strengths and interests.  Thus, a student who recently embarked on graduate study in engineering after working on instrumentation development on the 26-meter radio telescopes is as much a success story as one who follows a conventional career path into professional astronomy.  For K-12 students, PARSEC can give students an enticing first exposure to science, beginning the process of active engagement.
A number of ongoing educational programs already connect students with activities at PARI as active participants.  For example, the students in the Duke Talent Identification Program carry out observing projects and give presentations on their results.  The School of Galactic Radio Astronomy offers students in grades 8-12 a hands-on, inquiry-based approach to learning through Internet control of a working 4.6-meter radio telescope at PARI.  The NSF-funded Sensing the Radio Universe Program is developing planetarium displays of the radio universe to complement the traditional visual view.
The extensive infrastructure available at PARI offers the UNC system a remarkable opportunity to engage faculty, students, and the community in a multidisciplinary environment.  The simultaneous commitments to research, education, and outreach and the focus on the PARI site will help erase longstanding, but artificial, barriers among these endeavors and promote technological and scientific developments at many levels.
11. Recommendation of the Chancellors of the involved Institutions